In today's digital world, social media such as Twitter have become important communication platforms. The ability to archive tweets and retweets has created both challenges and opportunities for government agencies and businesses.
While the archiving functions of Twitter & Co. have certain limitations, specialized tools such as RS Archiver offer solutions for effective and legally compliant archiving in the original layout.
The limited features of archiving on Twitter and Facebook.
Although users can request and download their archived messages, these functions cannot be automated and require a separate solution for long-term retention. This poses a challenge for companies and public authorities, as centralized and continuous archiving is not possible.
Saving Twitter tweets in their original layout is of great importance.
The original layout contains not only the actual text of the tweet, but also information such as time of publication, username, hashtags, and any references to other users or tweets. Keeping the original layout preserves the context and relevance of the saved tweets. This is especially critical for legal matters and meeting compliance requirements, as the integrity and authenticity of archived data must be guaranteed.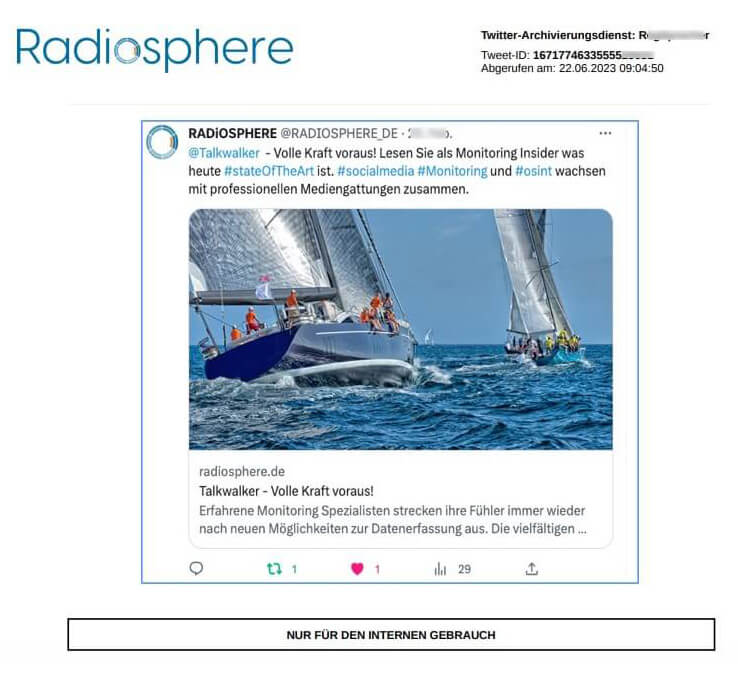 The RS Archiver as a powerful tool for archiving Twitter tweets and retweets.
This enables government agencies and businesses to record information, meet legal requirements, maintain compliance regulations, manage customer dialog, and analyze data for various purposes.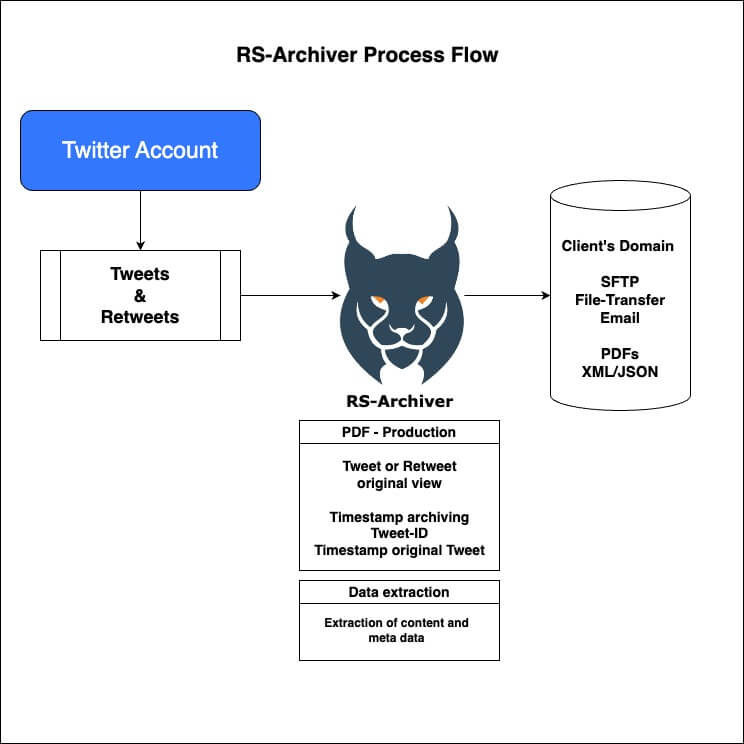 Takeaways: challenges and opportunities in Twitter archiving:
Legal and regulatory requirements: Twitter archiving enables agencies and government organizations to meet legal obligations and have relevant information available during legal or regulatory investigations.
Compliance: By archiving Twitter tweets, companies can document their social media activities and prove that they are following compliance regulations.
Customer dialogue recording: Archived tweets enable companies to track interactions with customers, capture important information, and improve customer service.
Historical recording and analysis: By archiving tweets, government agencies and companies can better understand past events, trends, and sentiments and use them for strategies, reputation management, and crisis communications.
Research and analysis: Archived Twitter data provides researchers and analysts with valuable material for scientific studies, market analysis and opinion research to analyze trends over time.
RS Archiver offers a technical implementation that captures user accounts from Twitter and embeds the tweets into a PDF document. The archived contributions can be transferred to the client via FTP/SFTP or e-mail, for example. This enables effective and secure archiving of Twitter content.