RS-Link Injector
Professional media, which are often only available in the classic publication form of print, can be imported directly into the social media monitoring of Talkwalker and other monitoring tools with the Injector. The scanned or photographed document is saved in PDF format and then transferred to the dedicated Talkwalker project via the Injector Portal.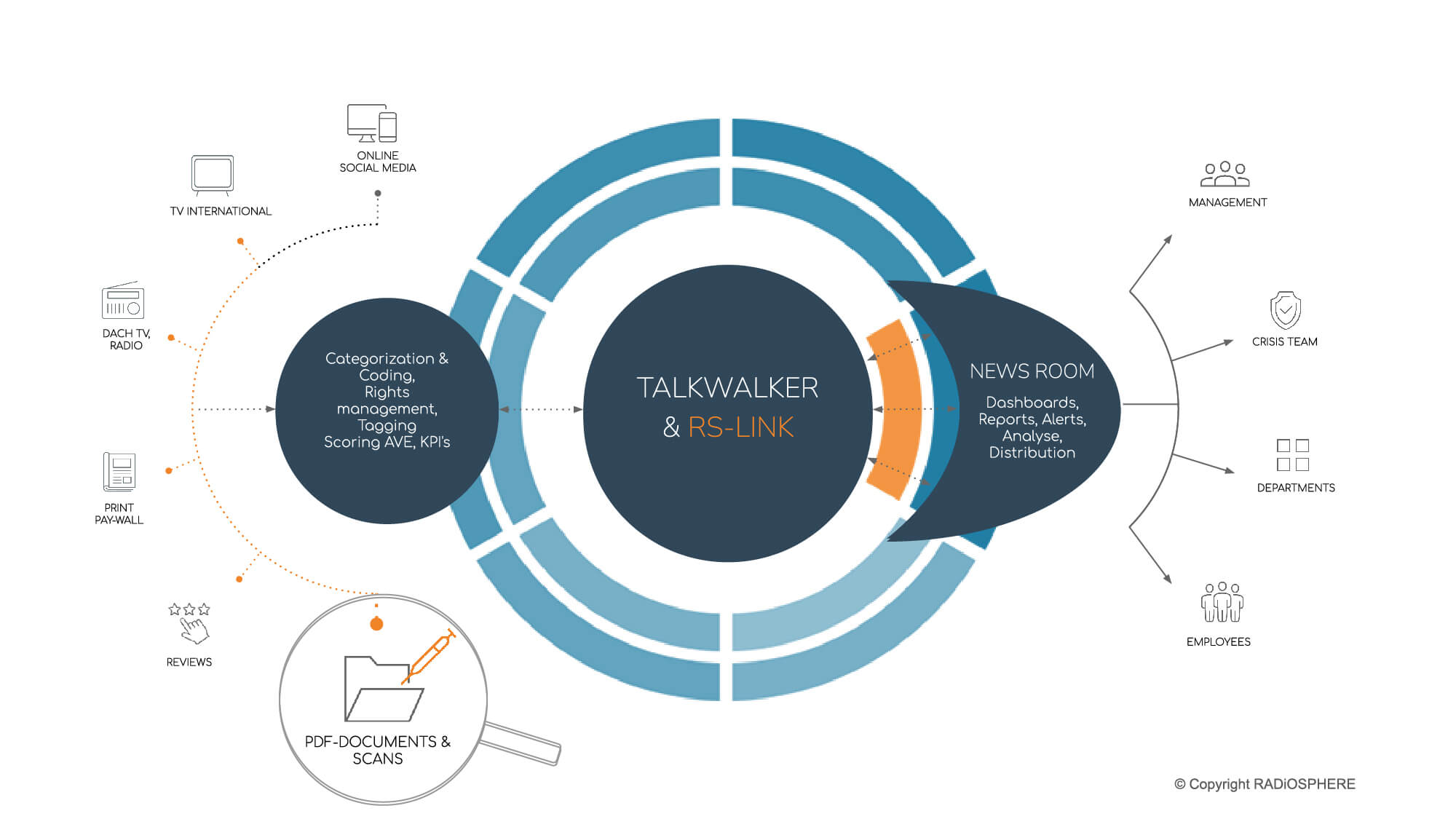 By processing images, created with the smartphone, the scope of application is facilitated and significantly expanded. The use of scanners is not necessary in this application.
The challenge with monitoring tools is to be able to call up external documents in an indexable way. PDF and JPEG data cannot be saved directly. The documents require a URL link and are stored and saved outside the monitoring tool.
The Injector stores the delivered document on a Radiosphere cloud server, packages the PDF into an HTML container, and stores the metadata. The RS-Link web service imports the HTML document directly into the corresponding monitoring project via the Talkwalker API.
The end user can now use all functions such as dashboard, report or alert to evaluate and distribute the document in parallel with all other media types in monitoring.
The Injector submission site is responsive and can be used on mobile and stationary devices alike.
A simple URL link is used to access the submission page. The URL is always custom and requires TAG adjustments during initial setup.
Note: The copyrights of any publication must be respected.
Added value:
Conventional articles and technical papers that are not available digitally can now be processed
Capturing items as scans or photos simplify information processing
Use case:
An internationally oriented company sources articles in the DACH region and licenses them via PMG or the Media Observer. Publications that appear abroad / outside the EU are often not available digitally. This is where the Injector comes in. The agency can scan the item or take a picture with a smartphone. If the article is several pages long and there are several photos to be created, then the individual images can be uploaded via the submission page. The RS-Link service summarizes the images in alphabetical order in a PDF. The same applies to multiple PDF documents.
RS-Link Injector – Desktop PC
The document to be submitted can be in PDF, JPG or JPEG format.
If several documents are submitted with one action, RS-Link merges them into one PDF document and creates an HTML container for it.
This can then be accessed and used in Talkwalker.
RS-Link Injector – Smartphone
Articles can be taken with the smartphone camera, for example, and loaded into the Injector via the photo library. The Injector merges multiple images into one PDF and makes it available in Talkwalker.
(Click on one of the pictures and enlarge the image)
Contact the Radiosphere specialists!