Experienced monitoring specialists are always putting out feelers for new ways to collect data. The multiple platforms and media genres with different metrics and measurement methods, provide challenges that are not trivial. But you are in a good position if you have a monitoring provider whose development department thinks and works outside your comfort zone.
This is the case with Talkwalker in Luxembourg.
Many of our customers use Talkwalker in application scenarios where complete and traceable measurement of media performance is required.
Here Talkwalker has integrated state-of-the-art functions in its own development. Text recognition in images and moving images, as well as transcription of Twitter video posts and podcasts. The identification of entities (persons, brands, etc) significantly expands the possibilities for later evaluations. Talkwalker also goes one step further here. The development of sentiment analysis and the use of long-language models also provides tonality analysis from different perspectives. The exclusive keyword counting of the old "NLP world" is passe.
We would like to present the most important innovations in 2023:
New reach calculation with Semrush
Text in image recognition
Audio analysis and transcription
Trend analysis
Peak Detection
New data visualization
Entity based sentiment analysis
Ai Classifier
Professional Media Print & Paywall
AVE calculation across all media types
New reach calculation
Talkwalker used Alexa to measure potential reach via "Alexa Monthly Unique Visitors" through the end of 2022. The Alexa service has been discontinued. Talkwalker has taken the opportunity to move to one of the industry leaders SEMRUSH for website measurement. The changeover already took place on January 1, 2023

Added value
Industry-leading metrics provider used by the largest platforms and marketers
Opens the door to offer more metrics from SEMRUSH in the future such as :bounce rate average visit duration and many more.
Text in image recognition
Talkwalker can now recognize text that appears in images. The display of the recognized text is provided in a separate field for easy differentiation from captions
Boolean value that can be used content_ocr:text
Audio analysis
In-house developed AI-assisted speech-to-text transcription
Full transcription for Twitter videos
Boolean value to use content_transcribed:Chancellor
Trend analysis
Trend matrix – comparison of topics based on contribution volume including trend value and engagement in a widget.
Trend chart – Created for each selected topic. Breaks the trend into segments and comments on the change points of the trend segments
Forecasts applied to the trend chart reveal trends up to 90 days into the future
Peakdetection
New rising and falling themes have been added to the peak vignette (mouse-over window)
New pop-up window for peak information
New theme popup window
Entity based sentiment
New sentiment logic for entities / smart themes for brands and celebrities. Known as "Smart Topics in Talkwalker Basic Settings, which allow you to understand how different entities are categorized at the item sentiment level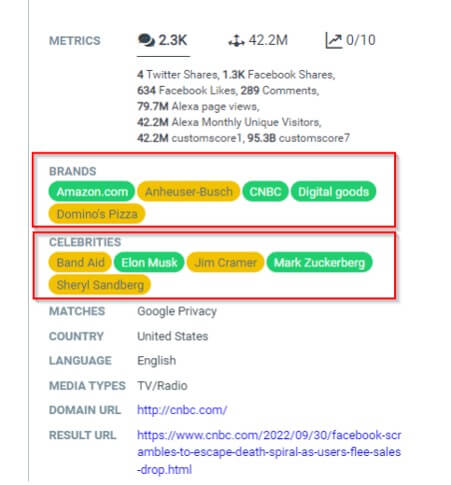 Added value
This new option includes more detailed information about the sentiment analysis of the different entities (smart topics, e.g. brands and celebrities) displayed in the results. This helps to provide additional insight and increase the accuracy of the sentiment analysis
In addition to the familiar item-level sentiment function, this can now also be applied to individual entities
AI Classifier
New AI model for classifying a large amount of text data without requiring manual training.
With the input of a short classification description in (currently) English, the AI processes documents with the classifier in English, German, Spanish, French, Italian, Chinese (simplified), Chinese (traditional), Japanese, Korean, Thai, Portuguese, Norwegian and Swedish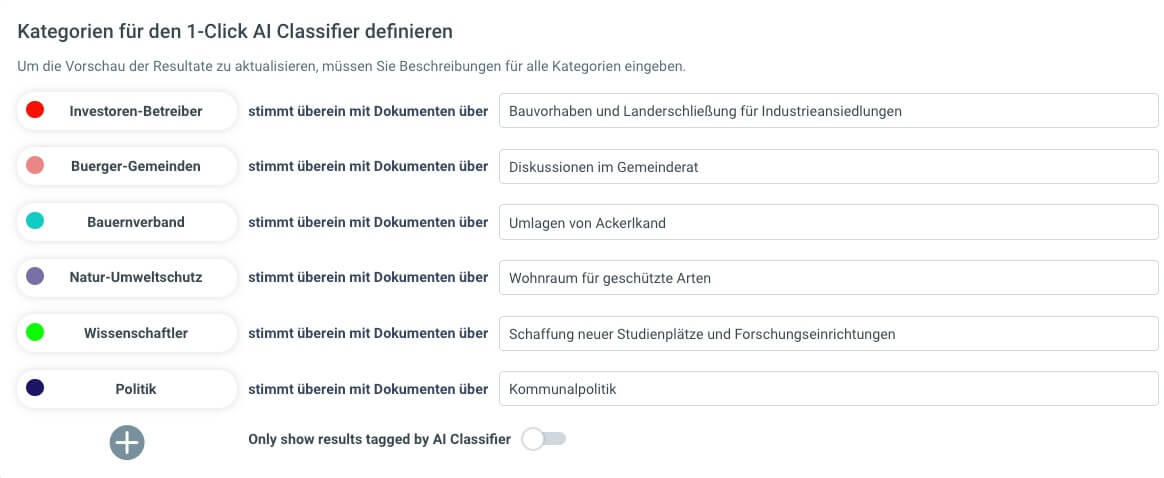 Added value
Quickly and accurately categorize millions of relevant social conversations, blogs, and articles without spending hours setting up complicated rules
Increases productivity by avoiding the need to manually tag each conversation individually
Limits inconsistency issues with the 1-click classifier because it is already trained and eliminates the need for human intervention, ensuring consistency and more accurate, relevant results
Professional Media Print & Paywall
With the platform connector RS-Link, print & paywall contributions can be integrated directly into Talkwalker
If a contract exists with the largest media observers, XML streams can be integrated directly into the Talkwalker project without media disruption
The acquisition of meta data such as range, circulation, VpD are synchronized with the performance metrics of the project
Users with an existing PMG contract can select, buy/license and automatically add their print & paywall contributions to Talwalker in the PMG portal.
AVE calculation across all media types
In combination with the platform connector RS-Link and Talkwalker's own scoring engine, an AVE can now be calculated on all media types.
Value assignment are configurable per media genre / influencer groups
AVE key figures supplied by media observers are incorporated transparently.
Over 100 optimizations and enhancements – 4 times a year.
In order to keep up with the market and continuously expand the lead, prudent planning of development resources is required. Access to leading universities and tech labs facilitate the pulse beat to new innovations. The Talkwalker team in Luxembourg, with Radiosphere as an integration partner, is ideally positioned to do this.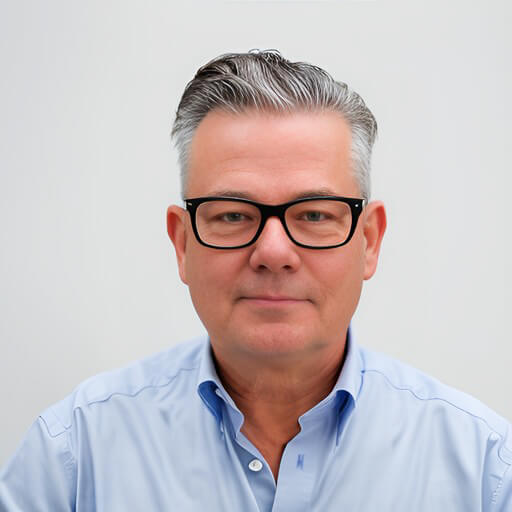 Heinz D. Schultz
Business Development for Analytics at RADiOSPHERE

"Continuous development is essential".
Heinz D. Schultz has worked for several years as a consultant and business analyst for renowned companies. At Radiosphere, he is responsible for business development and consulting.
Phone: +49 7021 9989018
Make a phone appointment
Email: hdschultz[@]radiosphere.de
Photos and graphics: Radiosphere, AdobeStock