The RS-Link platform connector for Talkwalker
RS-Link from Radiosphere is the often missing link between a print media mirror and a media monitoring platform for online and social media.
Why did we develop RS-Link? Many companies or institutions already work with a service provider for media monitoring – for example Argus Data Insights, Landau Media, PMG, pressrelations or others. The same companies or institutions rely on Talkwalker as a specialized service provider for online and social media monitoring.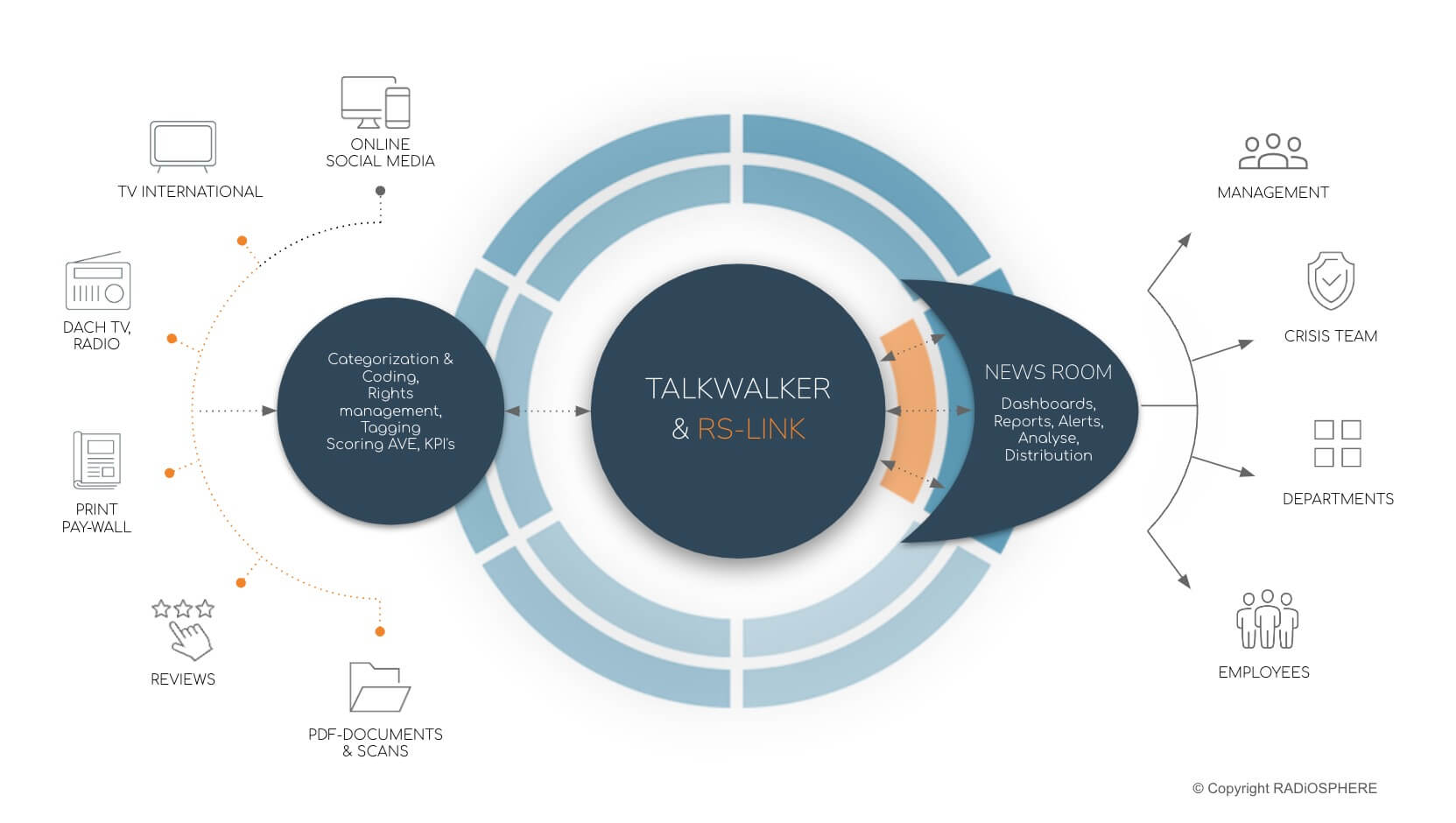 RS-Link is the missing link between different media monitoring platforms.
What benefits does RS-Link offer to companies or institutions that want to monitor all types of media and evaluate them for communication and marketing purposes?
Publications in all media genres are covered: print, online, paywall and social media, radio & TV, podcasts or also reviews of various review portals
With RS-Link, companies or institutions can continue to rely on their preferred media watcher – with a simultaneously expanded media panel and new analysis options
Publications in all media genres can be analyzed quantitatively and qualitatively according to objective criteria, e.g. according to reach, the advertising equivalent value AVE or demographic characteristics of the target groups
Topics from professional media often cause an echo in social media: RS-Link enables actual viral analysis
Media monitoring and analysis can be highly automated
A digital media mirror provides all target groups within a company with the information that is relevant to them
Publications that are not digital can be transferred directly into Talkwalker using the RS-Link Injector
Radiosphere offers RS-Link in three versions:
Features - What is included?
Managed Print Service (**)
Scans, PDF, JPEG - Injector

.
Multiple Talkwalker projects

.
Ideal for agencies and small businesses that want to monitor print, online and social media in one platform.
For companies that want to analyze print, online and social media in one platform as well.
For companies with multiple Talkwalker projects and high volume of contributions. Advanced analytics.
(*) Self Service: The print contributions are selected in the PMG portal by the user himself and also purchased himself, i.e. licensed. Contributions licensed with PMG are then sent as a ZIP file to RS-Link's web service. The article import and the transfer of the reach key figures or AVE are automated.
(**) Managed service: Your media observer selects the articles that are relevant for you. Preparation and import into the Talkwalker dashboard are automated with RS-Link.
You can purchase RS-Link from us or directly from Talkwalker.
Contact the Radiosphere specialists!