The all-in-one media monitoring platform RS-Lynx
RS-Lynx is our flexibly configurable platform for media monitoring and media analysis. Individually bookable modules cover the media genres print, online, social, radio+TV, podcasts and customer reviews.
In RS-Lynx, we integrate the world's leading tools for monitoring and analyzing all media types in a cloud-based real-time dashboard. Each of these tools is individually configurable in itself. The monitoring results can also be prepared as customized reports.
With RS-Lynx, PR and marketing experts receive a decentralized configurable media monitoring platform for resource-efficient communication controlling, market monitoring and topic identification.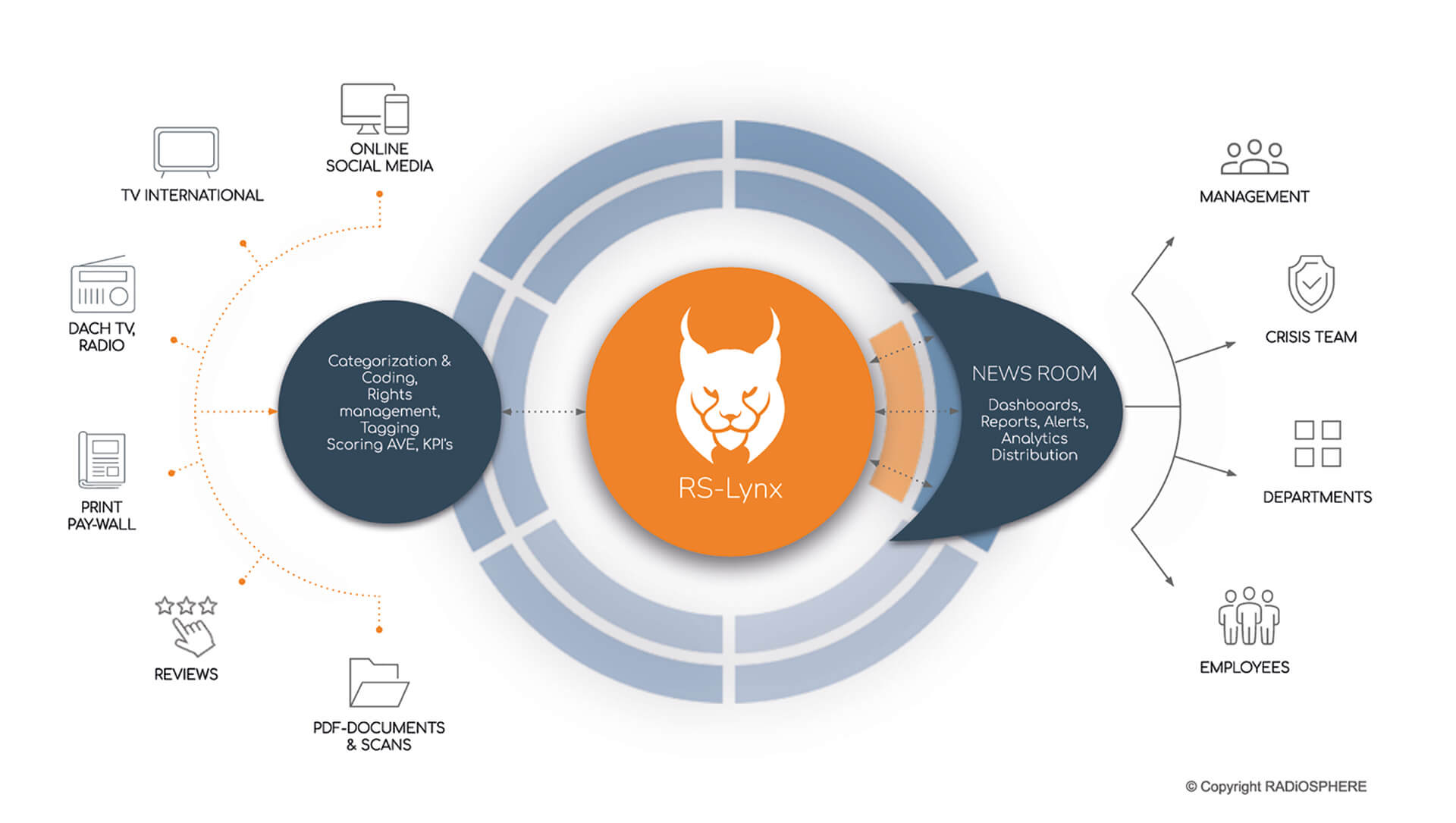 RS-Lynx is the cloud-based media monitoring platform for PR, marketing or campaign management – in the newsroom or decentralized in the home office. Our developers have fulfilled five requirements for this:
RS-Lynx captures all media genres: Print, Online, Social Media, Radio & TV as well as Podcasts. We use review monitoring to record customer ratings on various online portals. You can actively evaluate links and relationships of individual formats and platforms yourself. Important feature here: image, moving image and logo recognition.
The media monitoring results from all media genres are displayed and analyzed on a screen and a timeline.
RS-Lynx is cloud-based and can therefore also be configured decentrally. The simple and intuitive user interface makes it possible.
The platform and all interfaces are leanly programmed and offer short loading times. Monitoring results can be flexibly imported into other tools and also integrated.
Read also: Budget planning 2021 – corporate communications not without media monitoring.
Read also: Do you have all customer reviews on screen? RS-Lynx can now also do review monitoring.
The RS-Lynx media monitoring platform developed by Radiosphere is based on monitoring tools from the following vendors that are leaders in their fields:

Online and social media coverage in 187 languages
Integrated artificial intelligence
Logo and symbol recognition in photos and videos
Search wordless trend detection
Quick search with immediately available historical data of the past 13 months
cloud-based, data storage in ISO 27001-certified and DSGVO-compliant German data centers
API for the connection of further systems (SAP and many others)
Leading media observer with 25 years of experience
International source panel for cross-media monitoring and analysis
Location: Berlin
Media streams are automatically delivered to RS-Lynx via API
Leading media observer with 20 years of experience
International media set for cross-media monitoring and analysis
Locations: Austin (Texas), Berlin, Dublin, Düsseldorf, Frankfurt, Leipzig, Shanghai, Singapore, Sofia, Stans, Vienna and Zurich
Media streams are automatically delivered to RS-Lynx via API
With more than 125 years of experience in the media and communications industry and a fresh eye for new technologies, ARGUS DATA INSIGHTS offers tailored smart media insights. The portfolio includes solutions for active media relations, media analysis and media monitoring – worldwide and across all channels.
By combining digitally derived insights with human expertise, the company transforms simple media insights into smart data. The team of around 660 employees in Germany, Switzerland, France and Spain is on hand to advise customers on every project.
our tool of choice for monitoring radio, TV & podcasts globally
2,000 TV and radio stations in 12 languages
USA: all 210 regional media markets and 1,200 satellite and cable stations
UK: all terrestrial and satellite channels Radio & TV
Other markets: Australia, Middle East, China, Canada, Italy, France, Switzerland, Greece, Spain, Barbados, Ireland, Trinidad, Jamaica, New Zealand
Contact the Radiosphere specialists!