Observe & Evaluate
Online reviews can be the decisive impulse for consumers before making a purchase decision. This is why review monitoring is an essential tool for market research, especially for B2C companies. With our media monitoring platform RS-Lynx you have all your customer ratings on screen!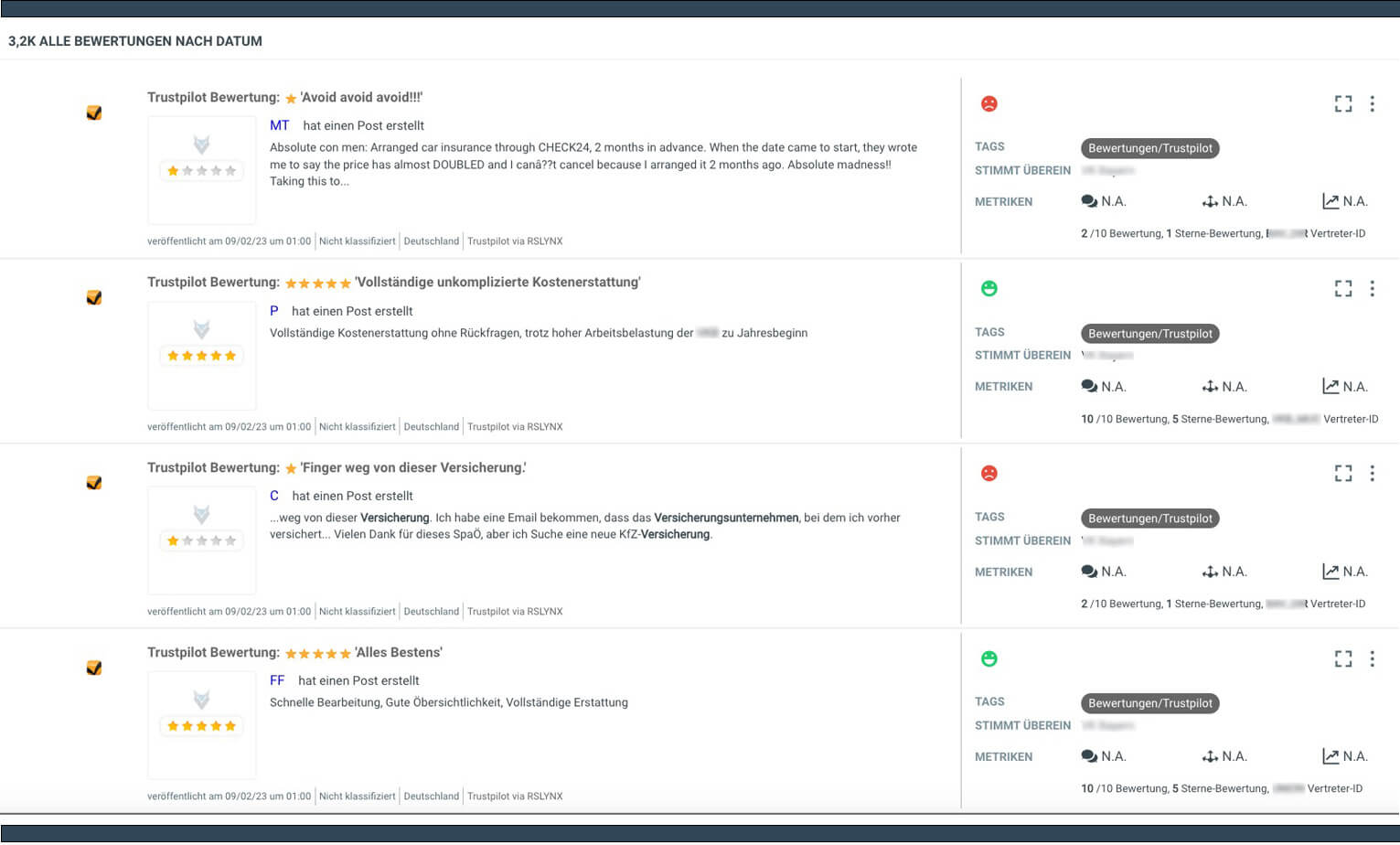 Welcome customer opinions!
Praise, criticism or suggestions – consumers often provide valuable information on potential for improvement: for products, services or the purchasing or consulting process. Especially for brand companies with a decentralized sales structure or multi-channel sales, it is important to always keep track of consumer feedback in order to be able to react promptly and appropriately.
As an individually bookable module of RS-Lynx, our Review Monitoring automates the quantitative and qualitative, i.e. semantic, evaluation of customer reviews.
What does Review Monitoring from Radiosphere do?
Our DSGVO-compliant, fully automated solution saves marketing teams enormous amounts of time. All reporting and alert functions are flexibly configurable, e.g. for daily reporting via e-mail or as a short message before the morning meeting.
We store customer reviews in compliance with copyright law and anonymously; only relevant text passages are displayed on the dashboard.
Review monitoring with RS-Lynx offers a wide range of evaluation options, which can also be enriched with data from your company, such as store IDs. Ratings can be grouped in the evaluation according to different criteria, e.g. by location or the reasons for a particular rating. Customer ratings can be displayed visually, e.g. as a heat map on the map.
RS-Lynx's review monitoring tool is cloud-based. Data can be exported to in-house systems such as a CRM, e.g. Salesforce or SAP, or sales control, e.g. in xls, csv, json or xml formats.
For which companies have we developed RS-Lynx Review Monitoring?
Our review monitoring module is suitable for B2C companies in all industries, especially those with an umbrella brand and a decentralized sales structure. These include car manufacturers, banks & insurance companies or energy suppliers as well as supermarkets, fitness studios, restaurants or fast food chains.
Contact the Radiosphere specialists!